OVTune has revised their Tundra Calibrations, enhancing code, eliminating some redundant features, and bringing new features to the table, while cleaning up the stock calibration and providing better efficiency to the 3UR-FE 5.7L Platform.
First, what have we eliminated or changed over the previous patch?
For Naturally Aspirated (non Supercharged trucks)
- We have revised our expanded and enhanced tables for Valve timing and Ignition.
For Supercharged Trucks 
- We have removed our current ignition patch feature, as we have a revised version.
- We have eliminated the Torque Control / WOT Torque Over-ride table. As we have found a better way to control this.
For all versions
- We have eliminated the requirement to press the "Tow" button to enable gear-locking.
New features and Calibration development being released in Patch 2.0.
Transmission Tuning - 
We have completely changed the way the transmission is tuned. Expanding on what we have already done, we have recalibrated the throttle angle requirements for gear changes. By retuning not only the limits of when the transmission can shift based on speed, but also completely retuning when the transmission can shift based on requested torque, the truck becomes MUCH more drive-able at any throttle angle. We now utilize much more effective torque areas the engine works best at, to enhance when the truck shifts.
- We have COMPLETELY eliminated gear hanging during acceleration. The truck will never hang up in 3rd or 4th gear during acceleration.
Transmission optimization based on engine RPM Zones
GREEN

-  Low load and low throttle area. The truck will shift in the 1100-2000 rpm range during light cruise(5 - 20%)
YELLOW -  Light to moderate throttle - The truck will shift in this RPM range (in all gears) during light to moderate throttle (20-40%)
ORANGE - Moderate to high throttle acceleration zone 1 (40-60%)
RED - High throttle acceleration zone 2 (65+%)
Transmission Torque Converter Tuning -
We have re-calibrated how and when the torque converter locks and unlocks, based on well known speeds for highway cruising, low throttle city cruising, and low to moderate throttle acceleration.
GREEN- Low Load Lockup - 2nd gear or higher (low throttle cruise)
YELLOW - 4th, 5th gear lock up (low throttle cruise)
RED- 5th, 6th Gear Lock up range (5-20% throttle)
ORANGE- 6th gear lock up range (5-25% throttle)
BLUE-  Unlock and Lock zone 6th gear (low to moderate acceleration without downshift)
Transmission - Fluid Pressure Tuning - 
We have retuned, calibrated and adjusted fluid based pressure controls in the ECU and TCU to enhance shifting. This creates much smoother shifting, and much faster shifting at higher throttle and higher torque requests.
This includes pressure and temperature modes for the Torque Converter.
Engine Tuning - 
We have made a critical adjustment to requested Engine Torque for supercharged Trucks, which may experience an issue with cold starting and loss of throttle. (Temperatures below 30* F). 
We have revised our Map switch Table sizing. This is a better strategy that does not reduce effectiveness of the map itself.
Exclusive upcoming features for 2.0:
- S Mode Based Gearlock
Gearlock will no longer be tied directly to Tow Haul button, and will now be activated by moving the shift selector to S mode
- Tow Haul Button Map 2
The same feature remains from our 1.01 Patch, A second map mode when switching the truck to Tow Haul "On"
- Flex Ignition Patch - Optimal Timing for Ethanol Calculations
4 Tables for adding ignition based on Calculated Ethanol content have been modified, through code to be fully functional in increasing timing (instead of OEM timing reduction or non use)
Examples below.
Depending on Ethanol from 25%, 50%, 75% and 100% (with interpolation between all 4).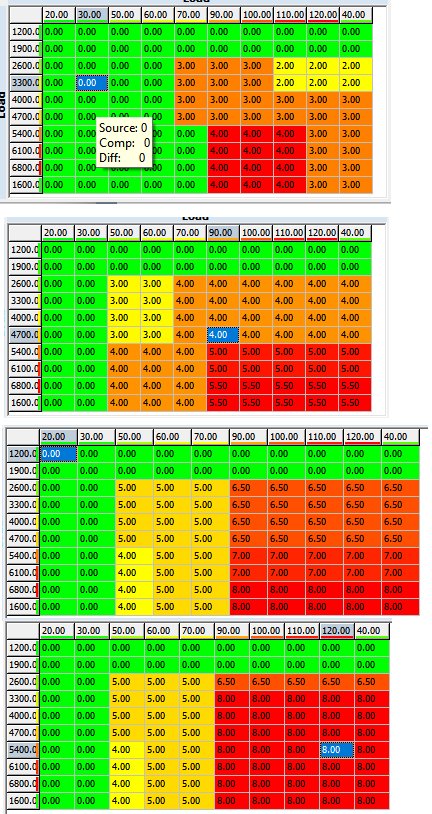 Current results with our tuning, testing Gearlock on the dyno, and seeing the difference in available torque at low RPM via our exclusive Gear lock mode.
Octane of choice: 93 octane
Tune options >
Gearlocking
Expanded VVT
(and more to come for him with dialing it in).


First.
The truck was previously tuned for 93 octane. So the owner decided to test out the previous tune vs stock tune, before flashing over that tune with custom features tune.
Unfortunately, tested on an Independent dyno jet, the truck made less power than stock.
RED
= other 93 octane tune / flash.
BLUE
 = STOCK
Testing was all performed same day, same conditions, same tank of gas.. (minutes apart). I have no interest in naming the company, we are only interested in showing the results as tested, all conditions constant.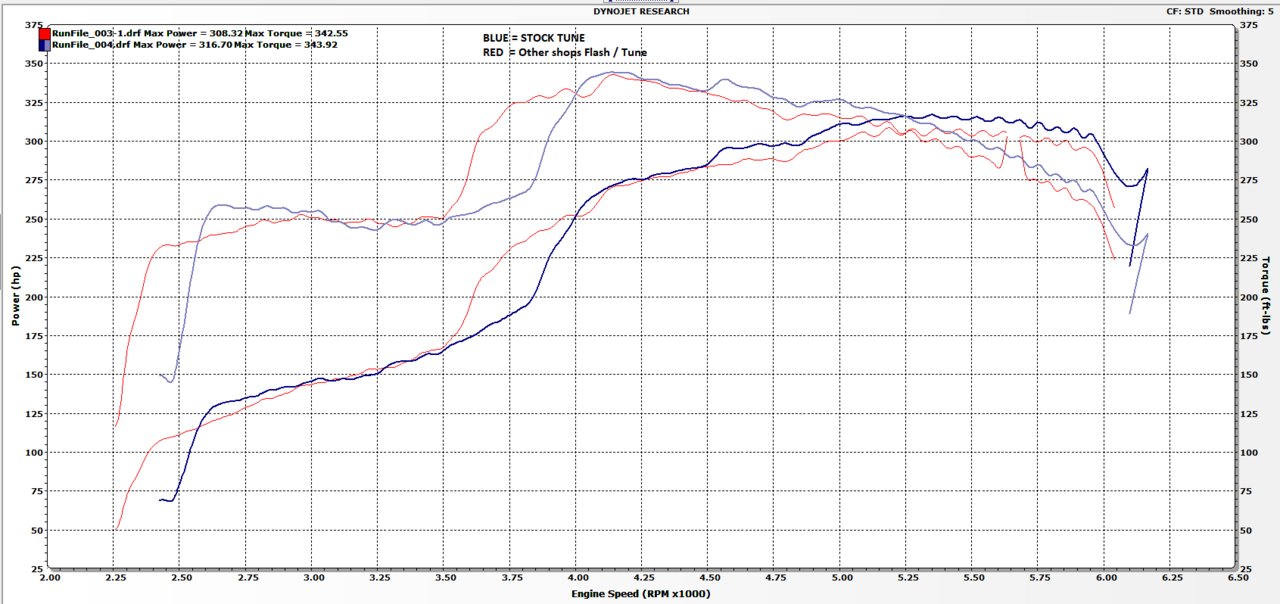 Next, our Gearlocking tune was loaded and tested.
 This showing the large 
torque potential
increase that we were trying to explain to you guys. Unlike stock which is normally impossible to obtain, our Gearlocking tune you have a torque potential difference of 150-170+ Ft lbs use-able in the lower RPM range without the transmission blocking you out. This is a phenomenal difference is use-able torque, especially when towing.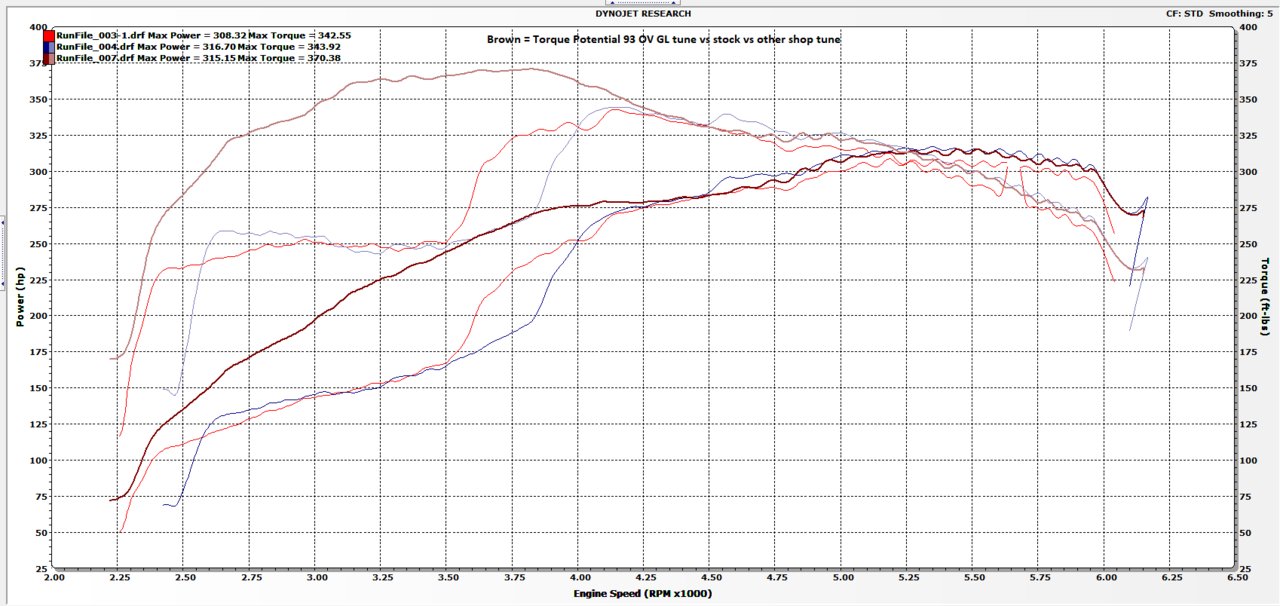 Finally,
 timing was limited but we made some further improvements for the truck as you can see here, smoothing out and increasing power, and removing the extreme rich situations up top that you see on stock trucks.With peak gains from 3500 rpm through 5000 rpm of 30+ ft lbs / 20 + ft lbs / and increased horsepower as you can see. testing on this file was after 9+ runs and plenty of heat soaked time, unlike 
IDEAL
 conditions of the very first runs (pre-stock tune test). For more power to be obtained up top, we have a bit more work to do on the torque converter, and replacing the stock header with some aftermarket ones. (We are working on some very nice high flow CATTED headers to remain legal).
unfortunately the dyno operator kept lifting earlier even though the limiter was set at 6500..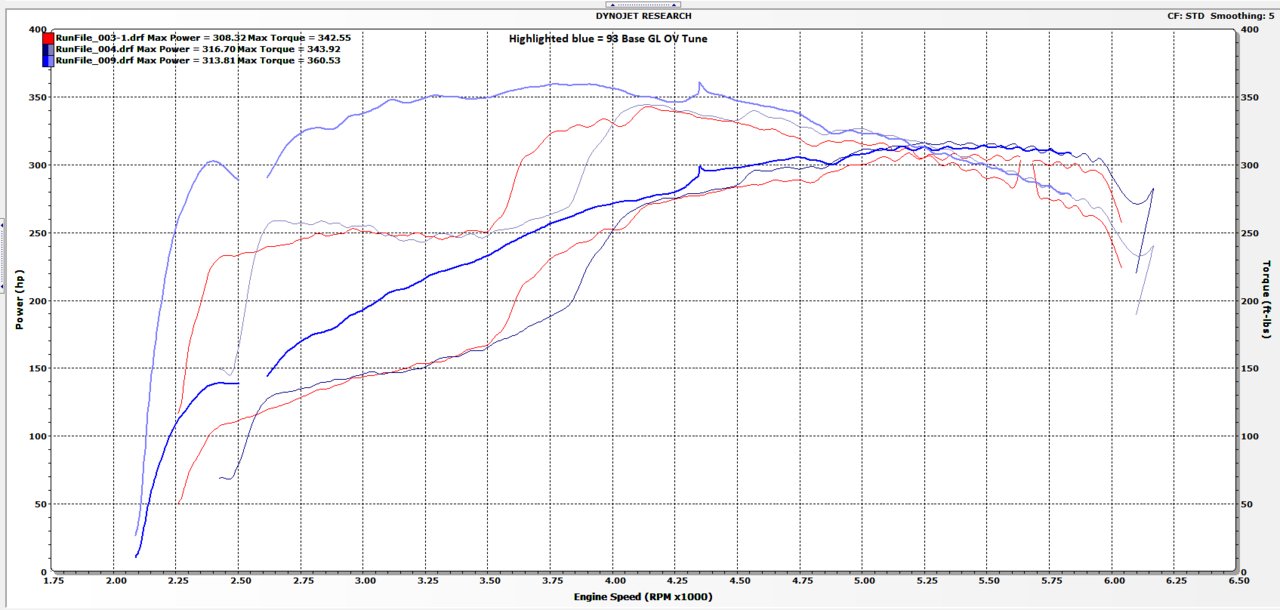 Conclusions,
Our gearlocking tune is the ultimate way to expand your USABLE torque from 2000 to 5000 RPM, where the engine is normally neutered due to transmission control.
Regarding gearlocking,
gearlocking will be updated to be S-mode only controlled, so that you can use it with and without the Tow / haul button (optional).